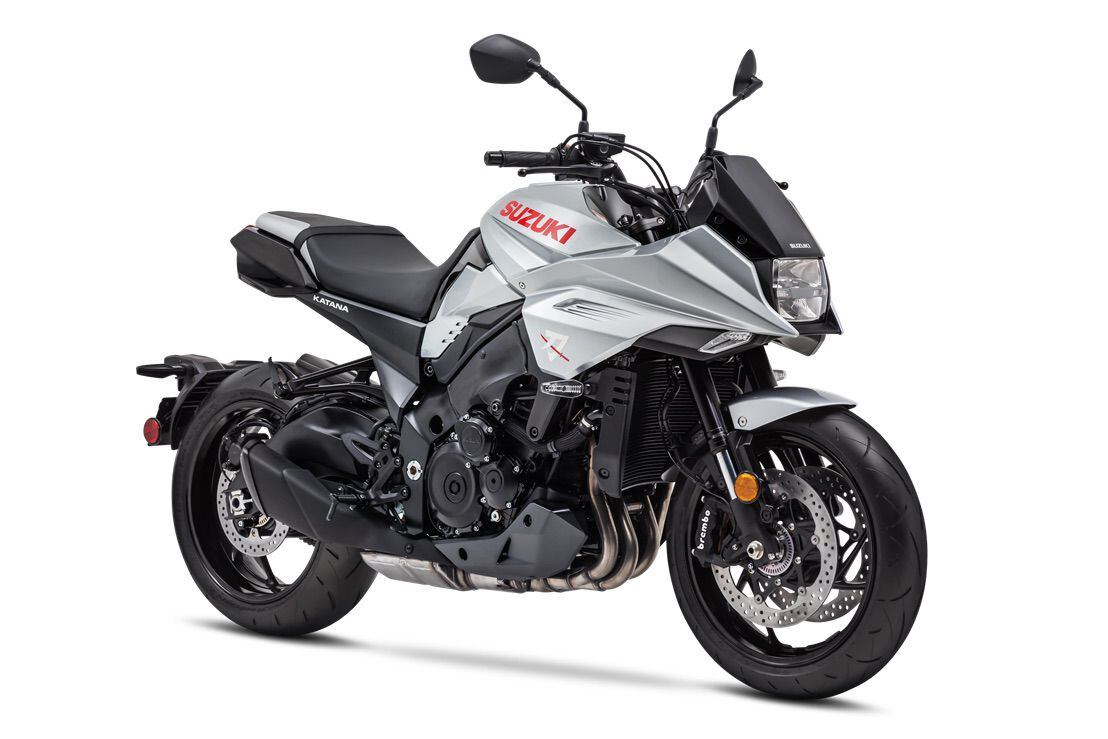 2020 Suzuki Katana (Suzuki /)
Putting aside for a moment the GSX-F range produced from the late-1980s to the mid-2000s, the 2020 Suzuki Katana is a four-cylinder Metallic Mystic Silver (Solid Black is also available) tribute to its namesake drawn some 40 years ago by ex-BMW stylist Hans Muth. While that sleek, bikini-faired machine still knocks motorcyclists of a certain age on their heels, the current version is a thoroughly modern sporting standard powered by an earlier-generation GSX-R1000 engine with chassis underpinnings served up by the GSX-S1000. Translation? Smooth, traction-controlled liter-class acceleration and an aluminum frame and swingarm complemented by adjustable Kayaba suspension and antilock-equipped triple-disc Brembo/Nissin brakes.
Thanks to the relatively upright rider triangle afforded by a wide handlebar and moderately rearset footpegs, this is a motorcycle you could ride all day—or night, thanks to full LED lighting—on all types of tarmac if it weren't for the near-complete absence of protection from the elements and smallish fuel tank. Those realities, however, won't dissuade fans of the Japanese brand from swooning over the traditional bright red block lettering on said tank or grinning with the speed and ease with which the Katana covers ground.
2020 Suzuki Katana Reviews, Comparisons, And Competition
2020 Suzuki Katana Arriving November 2019
How Much Power Does The 2020 Suzuki Katana Make?
The 2020 Suzuki Katana Is A Throwback Done Right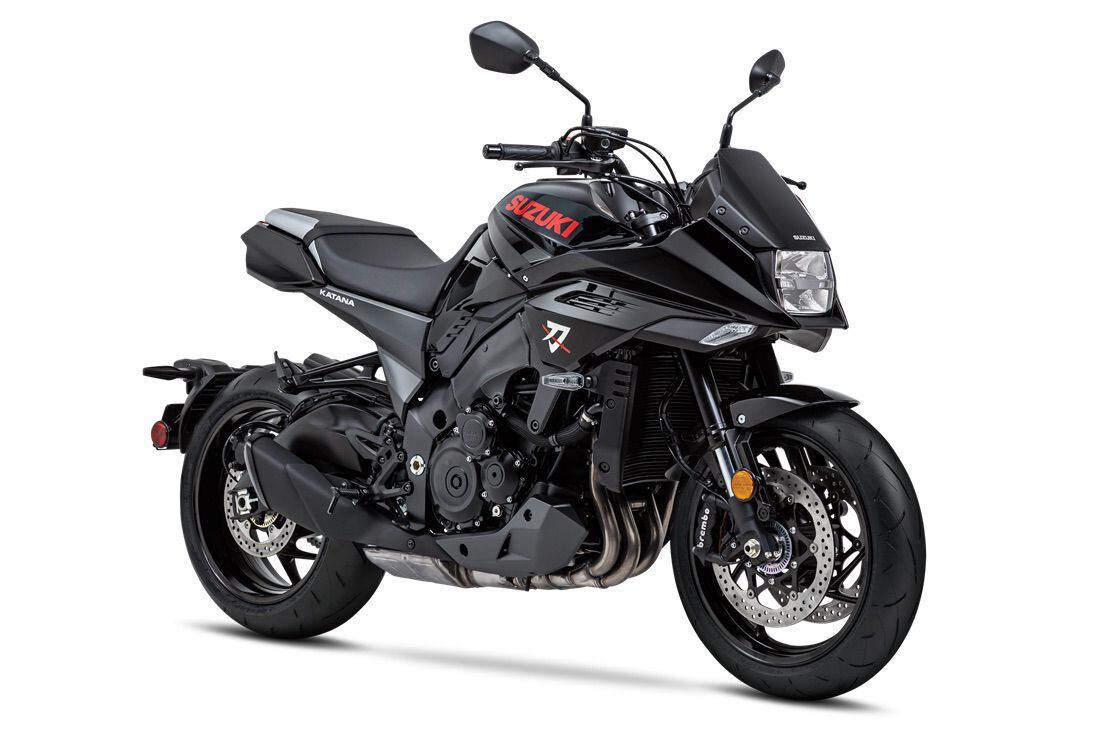 2020 Suzuki Katana (Suzuki /)
Manufacturer Claimed Specifications
.tg border-collapse:collapse;border-spacing:0;
.tg tdfont-family:Arial, sans-serif;font-size:14px;padding:10px 5px;border-style:solid;border-width:1px;overflow:hidden;word-break:normal;border-color:black;
.tg thfont-family:Arial, sans-serif;font-size:14px;font-weight:normal;padding:10px 5px;border-style:solid;border-width:1px;overflow:hidden;word-break:normal;border-color:black;
.tg .tg-0laxtext-align:left;vertical-align:top
| Price | $13,499 |
| --- | --- |
| Engine | Liquid-cooled, DOHC, four-cylinder |
| Displacement | 999cc |
| Bore x Stroke | 73.4mm x 59.0mm |
| Horsepower | 150.0 hp @ 10,000 rpm |
| Torque | 80.0 lb.-ft. @ 9,500 rpm |
| Transmission | 6-speed |
| Final Drive | Chain |
| Seat Height | 32.5 in. |
| Rake | 25.0° |
| Trail | 3.9 in. |
| Front Suspension | 43mm fully adjustable; 4.7-in. travel |
| Rear Suspension | Preload/rebound-damping adjustable; 5.1-in. travel |
| Front Tire | 120/70-17 |
| Rear Tire | 180/50-17 |
| Wheelbase | 57.6 in. |
| Fuel Capacity | 3.2 gal. |
| Claimed Wet Weight | 474 lb. |
Cycle World Tested Specifications
.tg border-collapse:collapse;border-spacing:0;
.tg tdfont-family:Arial, sans-serif;font-size:14px;padding:10px 5px;border-style:solid;border-width:1px;overflow:hidden;word-break:normal;border-color:black;
.tg thfont-family:Arial, sans-serif;font-size:14px;font-weight:normal;padding:10px 5px;border-style:solid;border-width:1px;overflow:hidden;word-break:normal;border-color:black;
.tg .tg-0laxtext-align:left;vertical-align:top
| Seat Height | 33.2 in. |
| --- | --- |
| Wet Weight | 475 lb. |
| Rear-Wheel Horsepower | 139.6 hp @ 10,100 rpm |
| Rear-Wheel Torque | 76.3 lb.-ft. @ 9,220 rpm |
| 0–60 mph | 3.2 sec. |
| 1/4-mile | 10.86 sec. @ 133.28 mph |
| Braking 30–0 mph | 33.7 ft. |
| Braking 60–0 mph | 133.9 ft. |